Blue Tungsten Oxide Rotary Furnace
Blue tungsten oxide rotary furnace is a process equipment for preparing blue and purple tungsten oxide from ammonium paratungstate, which is necessary for powder metallurgy (especially tungsten molybdenum smelting).
Equipment Characteristics
The biggest characteristics of the blue tungsten oxide rotary furnace compared with similar products are:
1. The cone ring of the furnace tube of the blue tungsten furnace and the cone ring of the front and rear bellows are automatically concentric, thus ensuring the reliable sealing between the graphite ring and the cone ring, and eliminating the occurrence of air leakage and material leakage.
2. The calcination atmosphere of the blue tungsten oxide furnace can be hydrogen or ammonia.
3. Large output, uniform particle size of powder, good product quality, low energy consumption, etc.
4. The equipment has few failures and is easy to maintain.
Equipment Specification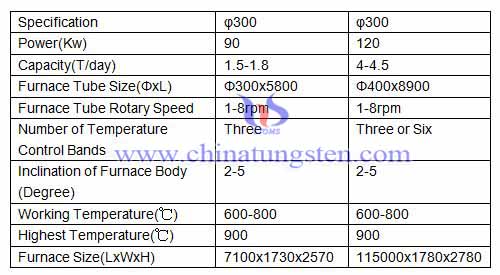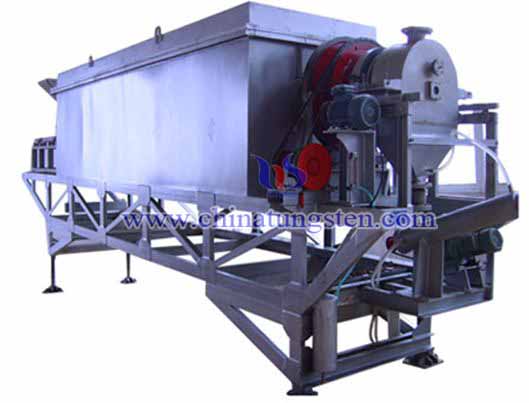 Blue Tungsten Oxide Rotary Tube Furnace
Blue tungsten oxide rotary tube furnace is mainly applicable to the reduction and calcination of metal powder in a certain atmosphere. The operating temperature can reach 1050 ℃. It can automatically feed and unload materials. It can be continuously produced in three shifts, with large output, high mechanization, simple maintenance and operation, and high production efficiency. The equipment consists of furnace body, transmission device, electrical control system and dust remover.